6 Point 20 Amp Triac Board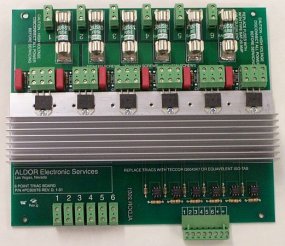 P/N PCB20T6

(LxWxH) 9"x8"x3"

$ call for quantity discounts

- Six 40 AMP 600 volt triacs fused at 20 AMPS. UL recognized for 120 VAC at 13 Amps per triac.

- 24 to 240VAC drive capabilities.

- Each triac has a Snubber Circuit which allows it to drive inductive or resistive loads.

- Zero cross detect circuitry ensures long bulb life by turning lamps on only when AC voltage is crossing zero volts.

- Extra wide board traces ensure no burnt traces, just blown fuses.

- Easy to connect, wire capture block for power, wire capture removable plug for optoisolator drive and TRIACS CAN BE REMOVED WITH A SCREWDRIVER.

- Fuses are included with this board.

- 1 year warranty.

Let us assist your design team with incorporating this board into your next application. Consultations and system layout assistance are free.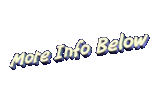 MORE PHOTOS !!
* Fuse clips are rated at 80 amps and are constructed of silver plated beryllium copper.
* Triacs are rated at 40 AMP 600 VAC.
* Each AC in point and out point are separate.
* Opto triac chips are in sockets.
* Non flammable metal film resistors are used for triac bias circuit.
* all 6 triacs can be ganged together for even more AC current control per board.
* Fuse clips are riveted to board then soldered top and bottom.
APPLICATIONS
- Used to spell on the AC neutral side of a grid of lamps then held on while smaller 10 amp boards scintillated the AC hot of the individual lamps.
- Triacs ganged together on 6 boards then driven with a 6 point controller for a 78 AMP per point scintillation across the front of a casino.