4 Point 10 Amp triac board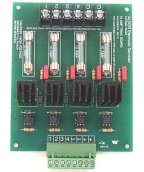 P/N PCB10T4

(LxWxH) 4.25"x5.25"x1.25"

$ call for quantity discounts



- Four 25 AMP 600 volt triacs fused at 10 AMPS and connected with a common AC return on one side.

- 24 to 240VAC drive capability. UL recognized for 120 VAC operation at 6.5 Amps per triac.

- The triacs now plug into the PC board. If a triac is damaged it can be removed and replaced without soldering.

- Each triac has a snubber circuit which allows it to drive inductive or resistive loads.

- Zero cross detect circuitry ensures long bulb life by turning lamps on only when AC voltage is crossing zero volts.

- Easy to connect. Wire capture terminal block for power and wire capture removable plug for optoisolator drive.

- 1 year warranty.

Let us assist your design team with incorporating this board into your next application. Consultations and system layout assistance are free.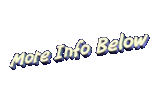 * 25 AMP 600 volt triacs are fused at 10 AMPs.

* AC connector is rated at 20 AMPS.

* Fuse clips are rated at 25 AMPS and are constructed of silver plated beryllium Copper.

* Triacs plug into board. No soldering necessary.

* Opto triac drivers are in sockets.

* Extra wide board traces.

APPLICATIONS

- Placed remotely from the controller board allows the customer to run one main AC line to the location instead of running
multiple AC drive points to the remote location.

- Used with a 32 point controller to drive the motors and reel stop solenoids for a large free play bertha slot machine.

- Spread across a stage sign that drops down during the show for 96 points of animation controlled by two 64 point controllers
and a 6 point controller as master clock.
Right click here and "Save Target As" (download) a short movie of one of the 4 patterns programmed into the sign..